Important Texting Factors that Can Lead to a Car Accident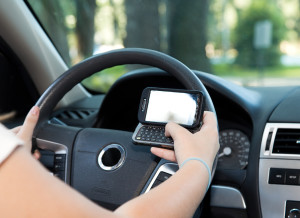 Texting and driving has become a very dangerous precedent on the road. Every day, thousands of Americans text and drive rather than listen to consistent statistics and evidence of why it is a dangerous practice. Many states have made the practice illegal and some have imposed heavy penalties for texting and driving.
Some have attempted to create new stops for drivers to pull over and use their phone. Consistently, it is shown that use of electronic devices while operating a motor vehicle can be dangerous for all people involved. Below are some surprising (or maybe not so surprising) facts tied to texting and driving:
Public opposition is strong:
94% of the public support a ban on texting and driving, according to a National Highway Transportation Safety Administration survey.
Consistent crash rates:
According to the same NHTSA data above, the level of accidents caused by distracted driving has remained largely steady since 2010. 421,000 Americans were injured in 2012 due to distracted driving, according to CDC statistics. A further 3,328 were killed due to distracted driving, according to the same statistics above.
39 states so far have banned texting and driving.
Crash rates increase dramatically:
texting and driving are linked to a 400% increase in the risk of crashes.
Hundreds of thousands of accidents annually:
the National Safety Council reports that 314,000 crashes were caused by texting and driving in 2013. Texting and driving causes too many shattered lives. When faced with an accident caused by reckless driving due to texting, it is important to reach out to a skilled legal advocate to help guide you through the process.
Michael Ehline, the Los Angeles area's most highly regarded auto accident expert will be able to advise you through this trying time, as he has done for thousands of clients. Call us today for more information or to set up a consultation.