Hon. J. Gary Hastings Interview – Improving Civility in Plaintiff's Bar With Inns of Court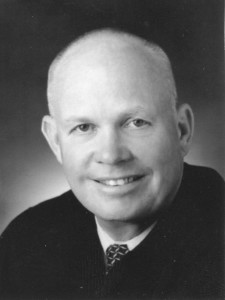 Before I introduce Justice J. Gary Hastings, I am going to give you some depth and breadth into why this is such an important topic to me. On my journey to becoming a personal injury lawyer while attending the California State Bar Law Office Study Program, I worked in a warehouse, and also drove a car that only ran on three cylinders, with a lawn chair as the front seat.
That car got to me to the law offices that I had worked in for free, or next to nothing for even the slightest opportunity to learn real world practice of the law. Getting taken seriously, or simply getting my foot in the door to get that opportunity, was next to impossible. Only pure tenacity, determination and luck got me my very first opportunities.
At some point, my old room mate told me about a buddy of his, Craig Weinstein, who was a South Bay lawyer, and made an introduction. I explained to Craig that I could already do discovery, law and motion, and was a trained paralegal. He was impressed that I had achieved so much, considering that I was not attending a traditional law school, and he suggested that I attend various mixers where there were other lawyers, and even judges who may also be impressed, and perhaps offer me some additional work experience.
This ultimately led to an invitation by Craig for me to attend the Redondo Beach Inns of Court (Benjamin Aranda III.) First, let me tell you a little history about the Inns so we can give this some more context.
Taken from Wikipedia: The "American Inns of Court (AIC) are designed to improve the skills, professionalism and ethics of the bench and bar. An American Inn of Court is an amalgam of judges, lawyers, and in some cases, law professors and law students. Each Inn meets approximately once a month both to "break bread" and to hold programs and discussions on matters of ethics, skills, and professionalism." (http://en.wikipedia.org/wiki/American_Inns_of_Court)
I have to admit, it was very intimidating for me to attend as a Law Student guest. I wore a name tag that described my "Student" status, and was approached by several lawyers who asked me where I attended law school. A few did not seem to overly impressed with reading for the law and suggested I enroll in a law school "right away." Lucky for me, I was also wearing my EGA lapel pin (Eagle Globe and Anchor.)
At some point, a tall gentleman approached me who noticed my EGA, and I was struck right away by his civility and gentle demeanor. He told me that his brother was a Marine, and I told him about my journey on the Law Office Study Program. As I looked closer, I recognized his name tag. It said, as I best recall: "J. Gary Hastings, California Court of Appeal,"
To me, a Justice at the Court of Appeal is equivalent to a Colonel or higher in the Corps., so my natural reaction was to lock my body and check my bearing. Justice Hastings told me that he thought Law Office Study was a great program, he told me about Clarence Darrow and Abe Lincoln, and how they had also become lawyers by reading for the law, etc. I told him that I was very impressed that he was an appellate justice, and that my dream was to be an intern at a high court. To my shock, he said "come and extern for me." At that moment, I realized just how special the Inns of Court was/is.  That single moment was proof to me that all my hard work had finally paid off.
Yes, I finally did extern for Justice Hastings in the summer of 2004. It was a great experience, and I got to learn a lot about judges, courts, and court administration. I got to sit in the gallery and watch oral arguments, and even got to watch one of the best injury lawyers in the U.S., Michael Piuze, argue an appeal. One thing I noticed about many of the lawyers, even the experienced ones, was that they could barely contain their hostility for the opposing side. I also noticed that that justices themselves, by their mere facial expressions, were none too happy when the lawyers made it personal.
Of course, I had already tried three cases as a Certified Law Student, and had seen the lower court judges exhibit the same disdain for lawyers that made things personal. I will never forget one judge in particular telling two plaintiff's injury attorneys to stop "bickering", and personally attacking the defense. In fact, I personally noticed that injury attorneys in general, had much bigger egos and attitudes than their lawyering skills warranted. But one plaintiff's lawyer I had seen in action, who also happened to have been mentored by Michael Piuze, demonstrated the same poise and civility that Justice Hastings. His name, Gary Dordick, who else?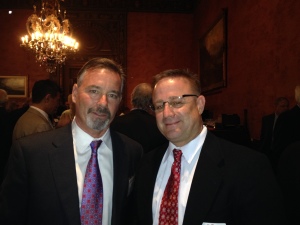 Of course, what did Dordick and Hastings have in common? That's easy, they are both members of the Inns of Court. And just like Justice Hastings had given me a shot to be an appellate extern, Dordick put me to work as a paralegal, and hired me of counsel, when I passed the bar. So this experience at the Inns made it clear that the most successful trial lawyers, were civil. I began attending these meetings regularly, but soon became so busy with depositions, discovery, and trial work, that I was no longer able to make it to the pupilage meetings. But I never stayed out of touch with the Justice Hastings, and I still support the mission of the Inns.
Since I attribute so much of my success to the Inns, I asked Justice Hastings if he would do a little Question and Answer Session about his South Bay Chapter, as well as the future of the Inns in General.
Questions and Answers With Justice Gary Hastings on Civility in Law, Second District Court of Appeal (Ret.)
Q. How long have you been an Inns Member?
A. In 1994 Ben Aranda III, a local Municipal Court Judge, called me and a number of other judges and lawyers in the South Bay and suggested forming a local chapter of the American Inns of Court. We formed the South Bay Inn of Court and our first year was completed in June of 1995. Ben passed away suddenly and unexpectedly in January of 1998 and we renamed the Inn for him.
Q. What do you feel the most important lesson is that can be learned from attending the Inns?
A. That all members of the legal profession, whether lawyers or judges, are involved in resolving cases for the litigants and can learn to do so with civility and professionalism without jeopardizing the client's case or the integrity of the system.
Q. Are their different levels of Inns membership? If so, what are they?
A. Yes. Lawyers with fifteen years or more and judges are Masters; Lawyers with six to fourteen years experience are Barristers; Lawyers with up to five years of experience are Associates; and we also have law student members.
Q. What are Pupilage meetings and how often do the meetings take place?
A. Most Inns, including ours, are divided into Pupilage Groups made up of a mixture of Masters, Barristers, Associates and law students. We have eight Pupilage Groups and we try to have at least one judicial officer as a member of each Group. The Inn has nine meetings each year, eight of which have programs presented and one of which is a social meeting. Each Pupilage Group is responsible for presenting one of the monthly programs which deal with substantive issues and which also address issues of civility and professionalism. Each Group meets to select a topic and prepare the presentation, usually once a month or more. After the Group has made its presentation it will continue to meet occasionally for purposes of mentoring.
Q. Do you have any theories why plaintiff's tort attorneys generally seem to exhibit less civil behavior than criminal law attorneys, for example, or is it just me who thinks this is not just a stereotype?
A. I practiced civil law for the thirteen years I was a lawyer and never was involved with criminal law. After I became a judge it became clear to me, and other judges with whom I have spoken, that most criminal lawyers are more civil and professional in their approach to the practice of law than civil lawyers. It is not just plaintiff's tort attorneys but spreads across all areas of civil practice. Criminal lawyers are in court much more often than civil lawyers and learn that to obtain the best outcome for their clients they need to cooperate with opposing counsel, be honest and candid with the court and not play games with discovery and motions. Most young civil lawyers don't understand these concepts. But the more experienced the civil practitioners get the more civil and professional they become.
Q. Why do judges dislike uncivil lawyering? Aside from the obvious, how does uncivil behavior among litigants help or assist the efficient administration of justice?
A. The process of litigation exists to resolve criminal and civil disputes peacefully rather than having the populace turn to self-help. Tom R. Tyler, a professor of psychology and law, has done studies to determine what people want from the justice system. There are four basic factors: 1. Voice – people want to be able to effectively state their case to the legal authorities; 2. Authorities' neutrality – they want to know that the authorities with whom they are dealing make decisions based on consistently applied legal principles in light of the facts of the case; 3. Respectful treatment – people are sensitive to whether they are treated with dignity and politeness and whether their rights are respected; and 4. Trust in authorities – they focus on the intentions and character of the legal authorities with whom they are dealing. When people perceive these factors are present in their case they are more accepting of the result, even if they lose, than if the factors are not present. (See "What Do They Expect?" an article in the Winter 2006 volume of California Courts Review.) Uncivil behavior neither helps nor assists the efficient administration of justice. When the judge must referee uncivil behavior by counsel or the litigants it means the judge is not addressing the substantive issues presented by the matter. And judges, also people, can become distracted by incivility potentially resulting in mistakes. Incivility will affect the perception of the parties regarding the above four factors.
Q. Do you recommend that injury lawyers in particular join a local Inn?
A. I recommend that lawyers of all types of practice join a local Inn.
Q. Are there Inns in every State?
A. I believe so. There are over 350 Inns throughout the United States. Go online to the American Inns of Court website where you can find out where the various Inns are.
Q. How can a lawyer start an Inns Chapter?
A. Get in touch with the American Inns of Court which has a pamphlet spelling out how to start an Inn. Also, find a local lawyer or judge who is a member of an Inn and outreach to them so see if they can help. Then, begin getting in touch with as many lawyers and judges you know to see if they may be interested in doing so. That is how Ben Aranda III got our Inn started.
Q. How are you enjoying retirement from the bench? Are you staying busy with the Inn?
A. I miss my colleagues on the Court of Appeal and I miss the monthly oral arguments. But I don't miss the reading, research and writing necessary to come up with an opinion. I do teach two classes a year at Southwestern Law School which takes up part of my time and I do some mediations and arbitrations through ARC which also takes up part of my time. Otherwise, my wife and I are traveling quite a bit, I do get out on my SUP and my kayak occasionally, I golf and I work out daily when we're not traveling.
Q. Do you think the Inns will start making use of technology for slammed lawyers who cannot always attend the physical pupilage meetings? (Skype, Google Hang Outs on Air, etc.)
A. Why not. I'm on the Ninth Circuit Advisory Board for the American Inns of Court and we meet by teleconferencing, communicate through Facebook and by email. I was one of the members of the Advisory Committee on Program Evaluation and we also met by teleconference and viewed the various programs on YouTube and by email. It depends on the sophistication of the members of each group and what needs to be done.
Q. Do you have any recommendations on books, movies, or other reference materials that new and even experiences lawyers can read to help them become better lawyers, and better people in general?
   A. Yes. In my seminar on the American Justice System I use a book by Rebecca Love Kourlis and Dirk Olin titled "Rebuilding Justice: Civil Courts in Jeopardy and Why You Should Care" published by the Institute for the Advancement of the American Legal System. I also refer to the following books: "The Cost of Bad Behavior: How Incivility Is Damaging Your Business and What to Do About It" by Christine Pearson and Christine Porath published by The Penguin Group (Portfolio); "Choosing Civility" by P.M. Forni published by St. Martin's Press; "Integrity" by Stephen L. Carter published by Harper Collins; and "Essential Qualities of The Professional Lawyer," Paul A. Haskins, Editor, published by the American Bar Association.
Meet Justice Hastings On Youtube
I want to thank Justice Hastings for this informative meeting and discussion, and hope that it was helpful to you. If you have any further questions about mediation, case resolution, or other legal education matters, feel free to look Justice Hastings up at ARC (Click Here.)
About the author: Michael Ehline is a top personal injury injury attorney and legal journalist based in Los Angeles, California. He works for Ehline Law Firm Personal Injury Attorneys and can be contacted at 213.596.9642.