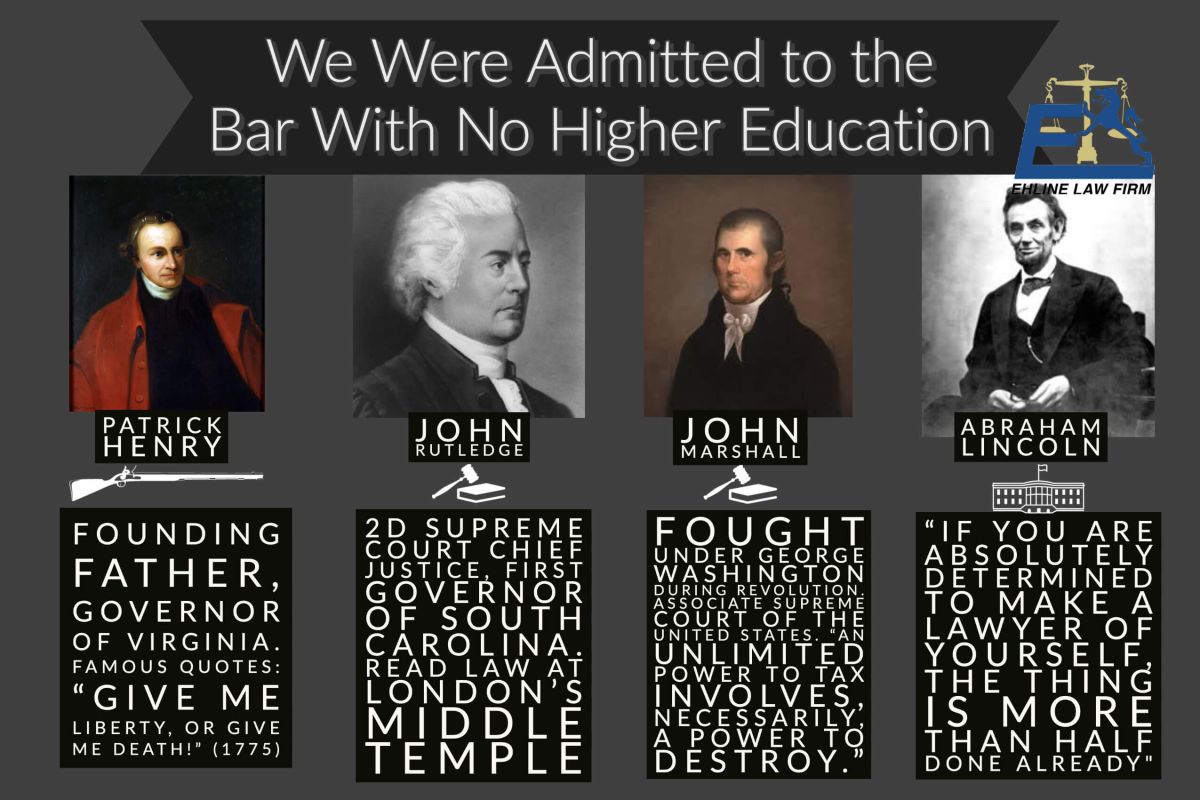 Did Kim Kardashian Cheat in High School to Get into Pierce College?
The question is not so cut and dry. We don't know if her goal was to get into a JC. But we do know that she admitted to cheating in high school. We don't know if that cheating got her scores high enough to get into Pierce. Born in 1980 in Los Angeles, California, Kim Kardashian West started gaining attention when her father, Robert Kardashian, became one of the lawyers on the legal team for OJ Simpson.
I am Los Angeles personal injury attorney Michael Ehline. I am a California State Bar Law Office Study graduate. I am also an inactive U.S. Marine. I befriended the late Johnny Cochran in my studies on the Law Office Study Program and always looked up to Robert Kardashian (criminal law) and Johnny Cochran as two of the best trial lawyers ever planted on God's green earth easily up there with Clarence Darrow and Phillip Morris nemesis, Michael Piuze. I think both Kim and her dad are highly gifted and probably have a brain processing speed up there with a Cray Computer. Excellent genetics.
I pride myself on becoming a lawyer with no law degree or undergrad. I am here to discuss the moral character examination process of the State Bar and how it could cause trouble for Kim down the road even after passing the single-day FYLSX. Again, she would probably get clemency if it became an issue due to her connections and star quality that could help the Bar recruit members. The State Bar is having such a hard time raising money. Are they not considering allowing non-attorneys to become owners in a law practice? Really?
From Soft Porn To the White House, To Lawyerdom?
Kim received massive media attention in 2002 when she made an alleged "pornographic film" with her then-boyfriend, Ray J. (Need source). However, the reality TV show "Keeping Up with the Kardashians" on E!, where the entire Kardashian crew got extreme global recognition. She was a guest of former President Donald Trump at the White House during a 2019 visit.
With hundreds of millions of followers on social media platforms, Kardashian has become an internet sensation. From a mobile game to a photo book, clothes, and more, Kim has risen to become an influential businesswoman. The TV reality celebrity married the notorious rapper Kanye West, which further put her in the difficult limelight of marital difficulties.
Recently, the reality star has been focusing on building her business empire just like her successful self-made billionaire younger sister, Kylie Jenner. Launching her beauty and fragrance brand in 2017, Kim instantly spread her influence across the United States.
There is a lot to talk about regarding Kim Kardashian, from a mirage of conspiracies to donations, social circles, and more. She wants to help with prison reform as a lawyer. However, we're here to determine whether Kim is officially becoming a lawyer and if she can be sworn in after admitting what amounts to moral turpitude. Yes, she had expressed interest in becoming a lawyer, but can she pull it off morally?
The Kardashian Family
Robert Kardashian Sr married Kris Houghton in 1978, and the couple had four children: Kim, Khloe, Rob, and Kourtney Kardashian. After divorcing Robert in 1991, Kris Houghton married Bruce Jenner, an Olympic superstar athlete.
The couple had two children together, Kylie and Kendall Jenner. From the side of Kris Jenner, Kim Kardashian has five siblings. Kim Kardashian also has four step-siblings from Bruce's previous marriage.
An interesting thing here is that Kourtney Kardashian also showed interest in legal education by applying to a law school, but in the end, she decided not to.
She did, however, study for two years at Southern Methodist University after high school, and Kourtney graduated with a three-year bachelor's degree in theatre arts at the University of Arizona.
Kim Kardashian Early Education
The star-studded celebrity started her primary education at Marymount High School, a prestigious all-girls private school in Los Angeles. In an episode of the Ellen Degeneres Show, Kim Kardashian admitted to cheating in high school to clear her exams and achieve excellent scores. They apparently replaced their honor code with a new "woke" diversity and inclusion code. (Source.) (If anyone has their honor code as it existed when Kardashian admits cheating on tests, send it)
Joking About Cheating On Live Television
The good news is Kim can say she was making it all up and it was a joke. That's probably the smart way to dispose of this potential Sword of Damocles. The celebrity made light of the situation on the show by stating that she would write the answers under her skirt in washable ink. She would flip her dress to read the answers and write them down on paper during an examination. Of course, it is doubtful whether she could do this and get away with it with the State Baby Bar proctors. But it could raise questions on her moral responsibility application papers with the California State Bar if she fails to disclose conduct like cheating in academia.
It can also raise questions about whether or not she earned the minimum education requirements to sit for the Baby Bar to start with. The California State Bar requires a minimum of what would amount to AA credits to sit for the Baby Bar. Otherwise, you must take and pass the CLEP. However, it is doubtful it will amount to anything negative based upon no action taken thus far despite these public admissions.
Did Kim Kardashian West Complete College?
The good news here is no public admissions have emerged that she cheated at Pierce College. But don't be surprised if someone comes out of the woodwork claiming to have taken a test on her behalf or signing in or out of class at the Pierce College campus. Time after time, Kim Kardashian expressed interest in becoming a lawyer, which led the paparazzi and her fans to question whether or not she had completed college in Los Angeles or elsewhere.
Typically, before going to any legal graduate school, you must graduate from a college. However, that is not the case for the social media celebrity Kim. Unlike her brother Rob Kardashian, who graduated from Southern California's Marshall School of Business, Kim Kardashian attended Pierce College in Los Angeles but did not graduate, which means she did not complete her college education.
Even without a college degree, Kim went on social media to let her fans know that she would pursue legal education to become a lawyer. I applaud that 100%!
Is Kim Kardashian Attending Law School?
Kim Kardashian made it clear in 2019 that after briefly attending Pierce College, she would not be attending law school but instead join a Law Office Study Program. This program allows aspiring attorneys to work under experienced judges and attorneys.
Forgoing education at law school and joining a law office study program is not a traditional route to becoming an attorney. However, it is not impossible, and many top lawyers forego those college years.
To join the study program, individuals must pass the California first-year law examination, a challenging day-long test. This examination is also referred to as the "baby bar exam."
The celebrity wasted no time letting her social media audience know she passed her baby bar exam after receiving her results. Passing this exam allows the aspiring attorney to take the bar exam, the final examination, before starting legal practice.
The passing rate for the baby bar exam held in June was 21%, almost half of the passing rate for the actual bar exam. The recent October baby bar passing rate is currently unavailable. This is not the first time she has given a baby bar exam a try, and her first attempt was not her last.
The celebrity was not ashamed to mention that she failed her examinations three times, with many making fun of her, and she only had one last chance to pass. Studying under legal experts like attorney Jessica Jackson and attorney Erin Haney, Kim passed her examination on the third and final try.
Doing Life and Passing The Bar
Juggling between taking care of her three children, managing her social empire, and studying for the baby bar, Kim Kardashian managed to conquer the close-to-impossible journey, as it was the only option she had to follow in the footsteps of her late father. Although working to overcome the first and foremost hurdle to becoming a practicing lawyer, Kim Kardashian still has a long and arduous route ahead of her.
Cheating Backlash?
Colossal concern remains about whether she revealed the details of her cheating in high school in her application to the California Bar Examiners.
The California State Bar says that violating the code of honor at a previous institution could deny her bar entry:
"Academic Honor Code/Student Conduct Violations – A violation of a school's honor code or student conduct code, particularly one that involves moral turpitude, may reflect negatively on an applicant's moral character. This is especially true of a law student, who is expected to have a particular commitment to honesty and is presumed to understand that misconduct could jeopardize the student's ability to practice law."
Admitting to Violations Of the Student Honor Code
We presume this is the same student honor code at Pierce, where Kim attended. Now, keep in mind, this is the student honor code for the college she attended, allegedly after she cheated in high school. But Pierce makes no distinction to where the moral turpitude occurred.
"WAC 132K-135-070 Prohibited student conduct
"Academic dishonesty. Any act of academic dishonesty including, but not limited to, cheating, plagiarism, and fabrication." "Cheating includes using or any attempt to use, give or obtain unauthorized assistance relating to the completion of an academic assignment, test, or exam. Plagiarism includes taking and using as one's own, without proper attribution, the ideas, writings, or work of another person in completing an academic assignment. Plagiarism may also include the unauthorized submission for credit of academic work that has been submitted for credit in another course. Fabrication includes falsifying data, information, or citations in completing an academic assignment and also includes providing false or deceptive information to an instructor. No student shall be allowed to withdraw from a course or from the college to avoid the consequences of academic dishonesty.
"Acts of dishonesty include, but are not limited to, Forgery, alteration, submission of falsified documents, or misuse of any College document, record, or instrument of identification; Tampering with an election conducted by or for college students; or Furnishing false information, or failing to furnish correct information, in response to the request requirement of a college officer or employee."
Likely, her high school had a similar code against lying and cheating to increase academic test scores. Since admitting cheating in High School likely amounts to a violation of her high school and junior college student honor code (Read here), it tends to show she lacks the "commitment to honesty and is presumed to understand that misconduct could jeopardize the student's ability to practice law."
If she failed to disclose the cheating at all, that tends also to show she is "dishonest, reflecting negatively on the applicant's moral character." "making false statements on an employment or school application, making false statements on a credit application, or a conviction of a crime in which an intent to defraud is an element."
In the Marines, they taught us integrity was everything. So hopefully, she came clean when she applied. If she did come clean, the State Bar may overlook the admission of cheating in academia. But that fact calls into question her having met the minimum requirements to take the Baby Bar at all.
Her legal advocate will likely argue that: under the holistic determination approach, "no act of misconduct [exists] that, in and of itself, automatically disqualifies an individual from obtaining a positive moral character determination." (See In re Gossage (2000) 23 Cal.4th 1080, 1094, 1098; Bernstein v. Committee of Bar Examiners (1968) 69 Cal.2d 90, 107; see also Moral Character Determination Guidelines.)
Kim will argue that in her older age, she has shown rehabilitation by leaving her estranged husband, Kanye, and getting her life back together, "commensurate with the seriousness of the misconduct," with a "compelling showing of rehabilitation and truly exemplary conduct over an extended period." (In re Glass (2014) 58 Cal.4th 500, 522.) She can argue she is not making excuses and has taken things slow on the four-year program after finding the best study partner with good character as a mentor, etc.
Whether or not she completes and passes her final bar exam, she also must clear the moral character determination process. If you're looking to embark on a quest for legal knowledge, visit the Ehline Law website to start your journey to pass on your first try because it "feels soooooo good."
About The Author of "Did Kim Kardashian Cheat?"
Michael Ehline is a world-famous Los Angeles personal injury attorney who assists single mothers and the less fortunate in becoming a lawyer without law school. He also helps wounded U.S. Marines get work in the legal profession.
If Michael missed facts, something, or another side that deserves perspective, he is happy to make any changes. If you suffered a severe, permanent injury, have a VA disability claim, and seek superior financial results, you can contact Michael 24/7 at (833) LETS-SUE or by using our convenient website form.