Gary Dordick Takes California Personal Injury Attorney of the Year 2017
With Hollywood Weekly Magazine in attendance and attorneys from all across the Unites States, Gary Dordick receives his just award. From April 20-22, Circle of Legal Trust held their Las Vegas Convention.
Personal Injury Warriors International presented the award for achievement in the personal injury law field. Of special interest, Dordick has tried hundreds of civil personal injury cases. He recently won a $125 million dollar jury verdict. It was a great honor to have Mr. Dordick take time off of his trial schedule to come and receive the award in person.
Matthew Dolman Wins Florida Personal Injury Attorney of the Year.
Attorney Matthew Dolman also received the same award for Florida. Of course, Mr. Dolman has led the fight against bogus attorney online referral services. As such, we presented this achievement award. As a matter of fact, we are proud to have these two east and west coast awardees as part of our quiver.
Above all, there are only two awards given between east and west. So with our ever growing membership, it becomes harder to decide whom to award.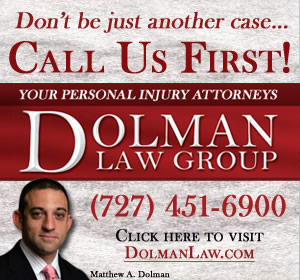 Both Dordick and Dolman fight hard on behalf of the public and our members. In attendance was Mike and Mark Hackard of Hackard Law Firm, as well at personal injury attorney, Tina Willis. Unfortunately, Terri Robinette was unable to attend.
Fortunately, Tony Castelli, Conrad Saam, and Lawyer David Slepkow were able to join us for a Google Hangout on Air. But we want to thank Conrad, Chris Dreyer, David Abels, Richard Rizk, Matt Dolman, Steve Willi, and everyone else for making this event happen.
Special Thanks to Clearwater Accident and Injury Attorney, Matt Dolman.
In my opinion, our core members know that Matt Dolman really helps make these events happen. He has been honorable and tireless among his fellow Personal Injury Warriors. He stands out for his dedication and heroism. The help he has provided as a top Clearwater car accident attorney has earned him nationwide recognition.
And that is what we are all about. Also, we want tireless warriors fighting for truth, justice, and the American way.  In fact, enthusiasm makes the difference. It is also the primary component to winning in life.  This was evinced by the information Glendale injury lawyer, Steven Sweat brought at the Circle of Legal Trust seminar. Most of all, we hope to see you again at one of our clandestine locations in 2018.