Adapting to the "New" Field of Law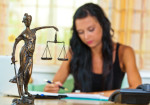 As we come into the age of electronic vehicles, we can see a point in time where there will be less car accidents. This means that traditional PI lawyers need to be considering the latest cottage industries in the injury law field, just as many doctors had to balance the value of continuing the practice of medicine after the passage of the so called "Affordable Care Act."
Safety regulations, just like medical laws, do seem to create some new industries, while destroying others, for better, or for worse. The bottom line is that "the times, they are a changing."
An Ever-Changing Environment
The legal field is not one for anyone afraid of change. Between changes in law, court decisions, and differences in operations, the field is rapidly transitioning. The electronic revolution has left no stone unturned for attorneys, and those that are entering into the practice are often in need of pointers in how to excel.
Below we will run through some common issues that arise for up-and-coming attorneys and how they can be used to their advantage.
The New Office
For many just graduating law school, there is often a realization that the old brick and mortar model that propelled firms for decades is now declining. Many firms still have this traditional office space but operating in a very different manner. Many portions of the day to day activities of attorneys and paralegals have become streamlined. There is a significant movement towards downsizing many aspects of an office.
This can include employees. With the advent of Google, LexisNexis, and other valuable tools, research has changed significantly. In many cases, the time needed to research recent cases and case briefs has been dramatically slashed. Many firms are finding less responsibility for interns and paralegals on staff.
Furthermore, there are often reduced responsibilities for secretaries. Some firms have decided to share a common secretary or outsource one entirely. By using such a common resource, personnel costs can be significantly reduced. A smaller salary, often through a temporary contract, and reduced benefits, all can slash costs. Furthermore, former rooms used for such personnel can be repurposed.
In other cases, the traditional office itself can be downsized. There may not be a need for a building with three conference rooms anymore. With the use of tablets, speakerphones, projectors, and cell phones, some firms have been able to utilize offices with just several rooms. The reduced cost of rent, mortgage, utilities, and other expenses can further pad a profit margin.
New technology also helps drive this shift. A cell phone and a tablet can do nearly the same as an entire room full of equipment thirty years ago. The ability to scan, copy, and email documents gives extra flexibility, as does the capability of recording conversations for transcription. In many cases, attorneys can find their office carried with them on the road, especially as technology evolves.
---
Michael Ehline is a Los Angeles based personal injury and auto accident attorney https://personalinjurywarriors.com/. A former Marine, Ehline spends much of his time offering advice for attorneys entering into the field or adapting to changes in technology.